Recent research completed by leading industrial property agents Bawdens asked how ling are small medium enterprises (SMEs) wishing to lease properties for?
The company examined 200 leases, entered into by SME's prior to, and during the Covid 19 pandemic.
The results can be seen in chart A.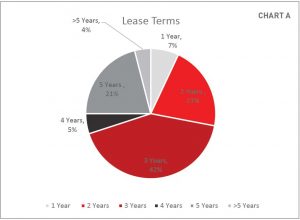 The chart reveals some 7% of leases were for a term of a year. With confidence from small companies crushed by Covid 19 uncertainty, not surprisingly, only 4% of all leases surveyed were for a term exceeding 5 years. the company then examined all leases entered into from 1 July 2021, being a period still Covid 19 impacted but with a positive future in sight as vaccination rates increased.
The results can be seen in chart B.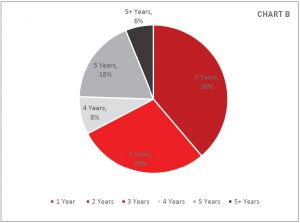 Now there were no leases entered into for one (1) year and as confidence returned and the number of leases with terms exceeding five (5) years doubled from 4% to 8%. With confidence increasing and a shortage of available warehousing likely to persist for sometime we anticipate this trend by SME's to seek longer terms is likely to develop further.