Property Problem Solvers.
Corporate Property Real Estate Agents, Asset Managers, Corporate Solutions.
Bawdens Associate Director Phil Higgins talks about a new property available in Auburn. For more details please contact Phil at 0414 608 143. www.bawdens.com.au 02 9630 8000
Bawdens speaks with Sales & Leasing Negotiator Jarrad Love to learn about his journey into real estate, and how he can provide clients with excellent results. You can contact Jarrad at 0408 817 025....
Bawdens Sales & Leasing Negotiator Anthony Barbanera talks about a recently sold property in Strathfield South. For more details, please contact Anthony at 0410 914 662. www.bawdens.com.au 02 9630 8000...
With a high success rate and the expertise to match, Bawdens are specialists in the industrial and commercial real estate sector.
Using effective marketing integrated with the insight and commitment of talented professionals, Bawdens are able to provide a tailored solution whether you are selling, leasing or looking to purchase an industrial or commercial property.
The services offered by Bawdens include sales, leasing, asset management and investment. While they are leaders in industrial and commercial property for sale, the team at Bawdens handle transactions involving sales as well as industrial property for lease and commercial property for rent. They manage numerous properties that range from warehouses, factory units and industrial sites to office and retail facilities.
Our Focus
Bawdens' focus on the Sydney market extends from Lane Cove right through to Campbelltown and all the major commercial and industrial areas in between. Bawdens' portfolio includes suburbs that are centrally located and possess the potential to contribute to any business.
In South Western Sydney these include Fairfield, Smithfield and Wetherill Park, where industrial sites and warehouses are prominent. Commercial and industrial real estate in the Northwest region include expansive office and retail space, established in Castle Hill, Baulkham Hills and Seven Hills.
Bawdens are also committed to commercial and industrial properties in suburbs such as Homebush, Rydalmere, Auburn, Gladesville, Yennora, Lidcombe and Huntingwood.
Key Information
Through the Bawdens website you will be able to find commercial real estate and other industrial property for sale that meet the relevant criteria you have for you and your business. The property quick search function delivers prompt and advanced results.
The site also contains a wealth of information that will assist any decision being made and aid general awareness of the market and any future investments. You can access free industrial property news, reports and a learning centre that will better equip you to navigate the commercial and industrial property market.
They are constantly seeking out new and innovative methods within the market so as to better serve their clients. They offer complete services that are varied and customised to individual clients' requirements. Because of a constant commitment to excellence, Bawdens continue to lead the commercial and industrial real estate market in Sydney.

Because of their extensive experience and expertise in the field, Bawdens are leaders in commercial and industrial real estate in Sydney and their high success rate with clients further supports this affirmation.

What our clients say about us
Outstanding property management sector! It has been such a pleasure dealing with the asset management and sales team. They go above and beyond to ensure the most cost/time effective options are put into place. Prompt responses and excellent communicational skills are second to none! Thank you for a wonderful and hassle free dealing.
Having trained Barry and his team of Negotiators and Asset managers at Bawdens Industrial has left a significant impression on me on how a business should be lead from the front. Barry and his team have an amazing ability to obtain data and interpret the information to help clients make informed decisions. This passion for improvement has resulted in significant advantages for their clients and sets them apart from the competition. Whether they are working with a vendor, tenant, or investor they treat the relationship with respect and value their clients trusting them to manage their assets. If ever you were looking for someone to buy, sell, or manage property then I would highly recommend Barry and his team to you.
I wanted to say thank you to James Zerefos for his perseverance in the sale of my property. It is a remarkable achievement considering the Covid environment.
I found working with James a pleasure (and fun!) and would be happy to recommend his services to any vendor of commercial property in the mid-west.
May I take this opportunity to congratulate you (Graeme Scott) on achieving your 30-year milestone with Bawdens, quite an achievement. We are certainly very thankful for your assistance in our warehouse purchase which would not have happened were it not for your diligence in finding us the perfect spot.
For 11 years I have managed an industrial unit myself. After experiencing a very difficult tenancy, I decided to hand over the management to Bawdens Industrial in order to create a "buffer" and to reduce stress. When Bechara took control, I had no further management worries… Bechara was extremely efficient, effective and obliging. Nothing that I requested has been too much trouble. At the beginning and end of a tenancy he has been meticulous in taking photos and checking the tenant has attended to his obligations.
Having bought and sold several industrial/commercial properties over the last 10 years, I can genuinely say that I would not consider using any other real estate agent other than Bawdens Industrial. I have searched for help in buying and selling from virtually all the agents in the area, but in every single case it was Rob Ally from Bawdens that was the persistent one, delivering promises… Particularly in selling the properties. I take my hat off to you, Rob, in particular for your consistent communication, updates, realistic valuations and the reach of your marketing data base! I look forward to doing business with you and your Team in the near future!
I have successfully owned industrial properties for many years with the help of Bawdens Industrial. Everyone I deal with is very friendly and professional. I am always well informed and therefore feel comfortable to allow Bawdens to continue to do what they do best!
I was fortunate to be guided toward Bawdens around 10 years ago for the management of a couple of properties and have always found their management to be utterly professional and fair. It has been a huge relief to be able to let them handle issues to successful resolutions. I can't recommend the team at Bawdens enough. Thank you Robert and Terry and your team members.
I was very impressed with the service received from you personally and all the time and effort spent with on the sale of my property. I never once felt that mine was just one of a long list of properties, you provided me with a very personal service. Even when making contact with your office, the staff knew who I was, which emphasised once again what a personal service your company offers.
Terry Saba is the best agent in Sydney commercial market! I am happy that my warehouse was leased out for four years term, he stays on top of everything as always.  I look forward to hearing more good investment opportunities from him!
I recently had an experience with Phil Higgins from this real estate and could not recommend them higher.
Not only was he attentive, helpful and extremely time efficient it was the kindness and understanding he showed that really sets him apart.
I haven't come across a true gentleman in business for a very long time.. until I met Phil. I look forward to when our paths cross again.
If you have a property you are thinking of listing I would look no further than Phil Higgins at Bawdens.
The success of the sale can be attributed to the constant professionalism and knowledge offered by Mr Peter Pacetta. His ability to correctly market and target our property to the right investors was coupled with his constant follow up of potential purchasers, which enabled your firm to achieve a great result for our family. The three month settlement process was made considerably easier with Peter's ability to liaise and overcome the many requests sought by the Law firm and their client, as he was able to remedy any issues promptly.
Peter certainly has proved to be a valuable asset to your Corporation.
Corporate Property Knowledge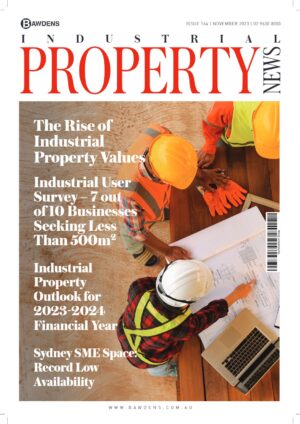 This edition of IPN summarizes the growth in the value of offices and warehouses across 30 suburbs in Sydney. This issue features some great investment properties available on the market in the Sydney Industrial Property Hub.
read more
Want to speak with one of the team?
Your questions and comments are important to us. Reach us by phone or email.
We've got everything covered for your needs.